Ecuador is one of the few countries to produce both Arabiga and Robusta coffee.  We export to England and Germany large quantities of soluble coffee.  Unfortunately our specialty coffee has taken a back seat to this industry and because our highlands are too high up, arable land for mountain grown coffee is limited in Ecuador when compared to Colombia and Peru. The map to your left shows the main specialty coffee growing regions in Ecuador, see description of each region below.
ECUADOR FUN FACTS: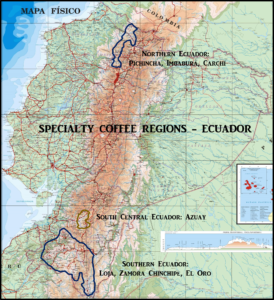 Population: 14,000,000
Languages: Spanish, Kichwa, Shuar
Coffee Exported: 600,000 bags
Varietals: 60% Arabiga, 40% Robusta
Mountain Grown Coffee (Over 1000 masl): 35%
Harvest Season: May to September
---
SPECIALTY COFFEE REGIONS
SOUTHERN ECUADOR:
Loja: Longest specialty coffee tradition in Ecuador.  Many producers have preserved the typica varietal (called criollo here in Ecuador) and it´s desired cupping profile.  Genetically, Loja is a powerhouse for specialty coffee in Ecuador and year after year most of the top ten coffees in our Taza Dorada competition come from this province.
Zamora Chinchipe: Young farms that use a lot of yellow bourbon and caturra due to wet climate.  These producers have learned from Lojano farmers, however, the climate and different varietals give these coffees unique and exotic flavor profiles.
El Oro: Lower in elevation and volumes, this province has a strong domestic reputation, but few micolots internationally.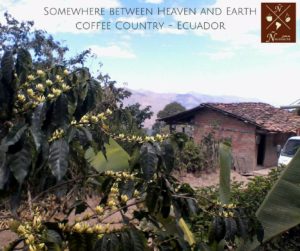 SOUTH CENTRAL ECUADOR
Azuay: Very new to specialty coffee, in 2016 this region won 2nd place in our Taza Dorada competition.  Most producers in this region do not practice proper post harvest processes and therefore this region is still developing.  Due to our proximity, we work closely with a handful of producers in this province.
NORTHERN ECUADOR
Pichincha: Adolescent farms, with mainly first generation producers who have structured their crops specifically for the specialty coffee industry.  Many very interesting microlots with higher price tags than in Southern Ecuador.
Imbabura: Oldest specialty coffee producers in Northern Ecuador, these producers put an emphasis in fair trade and organic certifications.  Solid specialty coffee, with interesting sweet lime profile.
Carchi: Heavily influenced by Colombia due to proximity.  Very similar hybrid varietals and cupping profile to Colombian coffee.